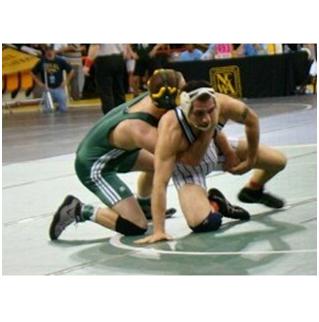 Alejandro Juarez "AJ" wrestles 174 and is a team captain for the Mavericks. He graduated from Arlington Lamar. He is a
junior majoring in History with an emphasis on Latin American culture with a double minor in Secondary Education and Spanish. His long term goal is to further his education and earn his masters degree and be a History Professor.
What brought you to UT-Arlington?
The main reason was of my family responsibilities and being from Arlington and knowing that I could receive a quality education here. Second, the wrestling program, I didn't have to give up on my passion for the sport even if I was attending a Texas college. Especially since in my mind UT-Arlington has best opportunities when it comes to competition and travel than any other Texas school.
What are your long term goals in wrestling?
My long term goals are to keep learning and improving my technique and become more competitive every day. Wrestling is ever evolving sport, you're willingness to adapt and learn is the difference between a good wrestler and a great wrestler. My goal is to become an NCWA All-American. I do plan on coaching wrestling in the future, I expect wrestling to be always part of my life.
What 3 things should fans know about you that they don't?
1. I have a beautiful son named Ethan who will one day hopefully, if he decides to, be kicking butt on the wrestling mat.
2. I am a theater buff!!! I performed in numerous plays and have taken about 6 years worth of acting classes.
3. I'm living a dream right now and hopefully I don't wake up anytime soon.
What do you enjoy most about being at UTA?
I love the learning environment, everyone here is here to learn and to succeed in their education and that is something that I really enjoy.
What are you most looking forward to this upcoming season?
I'm looking forward to getting better, tougher, stronger, and faster. I'm totally excited! Last season was a touch and feel season because it had been a couple years since I've wrestled, but the rust has been knocked off, and I'm ready to step up and get into people's faces. I have many goals for this season and I think it's very possible that I can achieve most of them. I'm going to come out hard for seven minutes, non-stop action, push the pace, and at the end I expect my hand to be raised.
How have you improved from last season to this one? What helped that improvement?
Last year I gave away a too many easy points and there were times I was too tentative when it came to getting some of my shoots off. I watched allot of my matches over the summer especially the ones that I lost. Saw what people where targeting and worked on defending more, I also cleaned up some of my technique. I spent a lot of time in the gym getting stronger. I'm much more confident because my increased strength and feel really good about my technique.
What person has had the biggest impact on your wrestling career and why?
I was blessed to have many different coaches impact on my wrestling career. I can't narrow it to just one coach but I would have to say that the most prominent would be my coach's coach C.T. Campbell and Micah Houston. Coach Campbell was my first coach, my freshman and sophomore years in high school. Through him and his coaching staff which included Brent Phorosky, I learned what it meant to be a tough wrestler. He wrestled at the University of Iowa and our practices were In your face Iowa style wrestling. Because of the mental toughness he instilled into me I am able to break through many barriers. Coach Houston and Coach Stephens took over the program my senior year. Coach Houston is a wrestling technician; I credit him for most of my technique. Even today when I stop by to say hello before after practice he has something new to show me.
What is your favorite sport, besides wrestling?
I like to play soccer, but I love to watch the Dallas Mavericks.
Who is your favorite athlete, outside of wrestling?
UFC fighter George St. Pierre.
What advice would you give to an up and coming wrestler?
Become the master of the mundane, overcoming the boredom of repetition and conquering the simplest of techniques, WILL bring success.